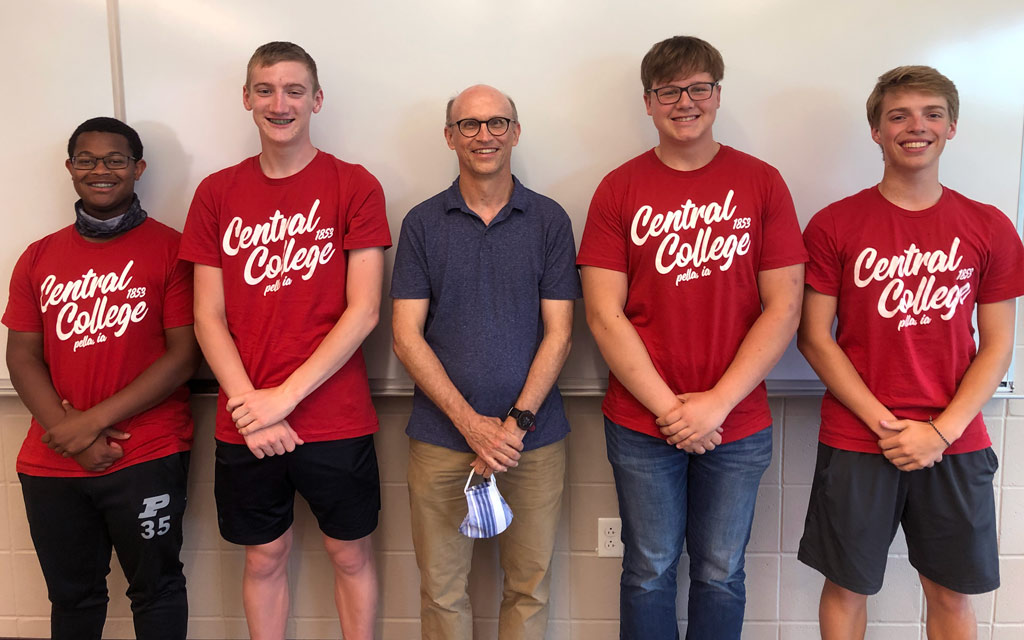 Four high school students from the Pella area recently completed a two-week workshop on campus at Central College as they worked toward IT certification. The workshop was part of a new work-based learning program of which Central College is a partner.
Grant Alsum, Elyse Kriegel, William Rasmussen and Vaughn Thompson took the two-week workshop at Central with Stephen Fyfe, professor of computer science, and presented their work and knowledge to area businesses at the end.
The group now has transitioned to a six-week internship at area business. Two are completing internships with Vermeer Corporation, while another is with ICE Technologies in Pella and another with Musco Lighting in Oskaloosa.
The students attend both Pella and Pella Christian high schools and are the first to go through IT Certification with the work-based learning program. All are between their junior and senior years and took prep classes at their high school.
"The goal is to build a pathway from classes in high school to the on-campus workshop to the workplace," says Teri Vos, director of the work-based learning program. "We want to advance them toward a successful future and local career opportunities in their chosen fields."
Students receive one college credit for the two-week workshop and another two college credits for the six-week internship. They will present to area business again at the completion of the internships.
The work-based learning program is funded in part by a grant from Future Ready Iowa, with additional guidance and support from Iowa Workforce Development throughout the expansion of work-based learning in the region. It is a collaborative community project whose participants currently include area educational institutions and employers.