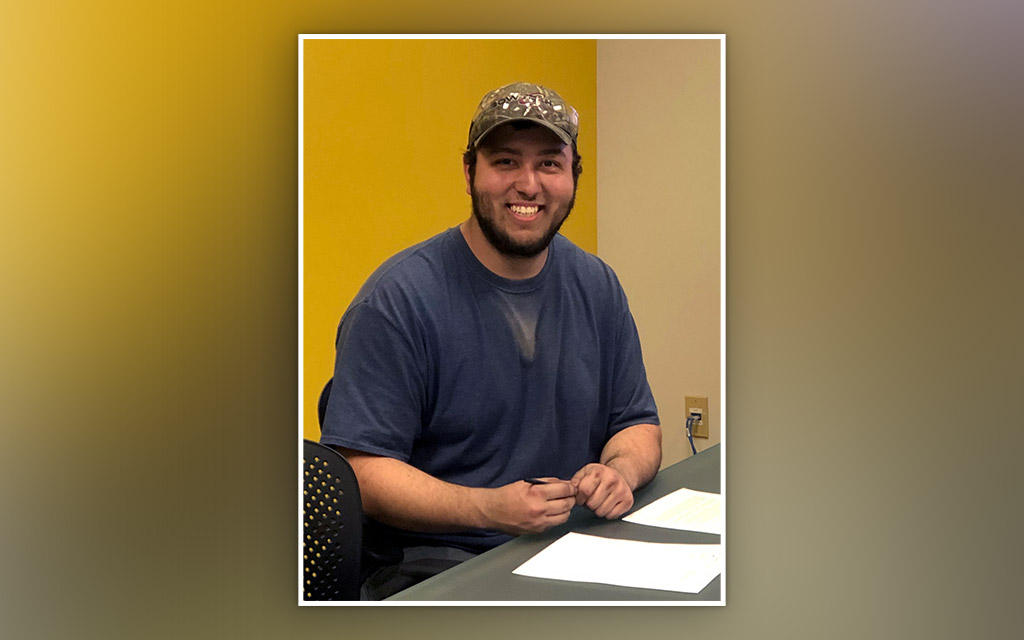 Charles Vander Velden, a 2019 graduate of Pella High School, became the first registered apprentice through the Career Academy of Pella, part of a new and expanding work-based educational program in Marion County.
"Thanks to everyone who helped me. This was a big experience and I'm glad I got to do it," Vander Velden says. "I already liked to weld, but now I have a job I like, an education and a nice paycheck. I'd recommend it to anyone."
In 2018, Vander Velden signed a registration agreement to pilot the program outlined in a new Registered Apprenticeship Playbook commissioned by Iowa Gov. Kim Reynolds and supported by the Governor's STEM Advisory Council. The Playbook was developed as a collaboration between the U.S. Department of Labor, Vermeer Corporation and the Career Academy of Pella. The signing took place in the presence of Gov. Reynolds, Lt. Gov. Adam Gregg, a 2006 Central College graduate, and then-U.S. Secretary of Labor Alexander Acosta.
"Registered apprenticeships are a proven solution to expand economic opportunities for Iowans, and Charles is a pioneer showing how students can pursue this great career path starting in high school," Gov. Reynolds says. "Congratulations to Charles for completing a nationally recognized welding credential that exemplifies what Future Ready Iowa is all about. A heartfelt thank you to Vermeer Corporation, the Career Academy of Pella and many other partners for recognizing registered apprenticeships are an investment in our residents that also strengthens our communities."
In completing the apprenticeship competency requirements through his work at Vermeer Corporation, Vander Velden has a nationally recognized, portable credential that signifies to employers that he is qualified for the job. Throughout his apprenticeship, Vander Velden has enjoyed employment and benefits from Vermeer and earned post-secondary academic credit for on-the-job training he can apply toward a degree. He has been working toward an associate degree in technical studies from Des Moines Area Community College, all unique advantages of this earn-while-you-learn model. Charles officially joined the Vermeer team as a full-time welder on April 1.
"High school registered apprenticeship programs combine work-based, on-the-job learning with relevant technical education in the classroom," says Greer Sisson, state director for the U.S. Department of Labor. "(They) allow schools to find new ways to engage students that connects careers with post-secondary education, skilled certifications and employment, increasing the potential for success during and after high school. High school registered apprenticeships benefit businesses as well by providing a fresh source of talent developed from within their community and access to a larger talent pool. It is a win for everyone."
Teri Vos recently was named the director of the work-based learning program in the Marion County area. The initiative is funded in part by a grant from Future Ready Iowa, with additional guidance and support from Iowa Workforce Development throughout the expansion of work-based learning in the region. Vos oversees various aspects of the program, a collaborative community project whose participants currently include Central College, Pella Area Community and Economic Alliance, Pella and surrounding schools, Career Academy of Pella, Des Moines Area Community College and several area employers including Co-line Manufacturing, LDJ Manufacturing, Liberty Street Kitchen, Pella Corporation, Precision Inc., Vermeer Corporation, Weiler Inc., Wesley Life and others.
The program's goals include creation, implementation and promotion of a strong work-based student experience. Vos works with regional partners to identify new and emerging training opportunities that align with industry workforce needs. She also supports apprentices/students, employers, parents, various schools, career academies and program partners to facilitate a high-quality, work-based learning experience.